Kunden House | Shahapur and Associates | Pune
Introducing 'METAMORPHOSE', our high end luxury residential project. This 1600 sq. ft. apartment has been drastically transformed from a 3BHK to a 2BHK flat to a brand new high end luxury apartment, modern minimalist house which has only a spacious Master bedrooms, a Kids bedroom, powder room & a kitchen, where rooms are designed keeping spaciousness a priority and which speaks openness in its planning.
LIVING ROOM
Living Room, narrating stories of calmness and tranquillity, and setting the 'Zen' vibe as one enters the house. Recliner Sofa gives a luxurious feel to the living room. The TV unit has been kept sleek, functional and matches with the dynamics of the room.
KITCHEN & DINING ROOM
The quartz stone on the counter top and Led lights on ceiling gives a classy look to the kitchen. The grey shade gives a clam and pleasant effect to the kitchen. Dining table complemented with stylish chairs, one that matches the sofa and an elegant window seating, perfectly designed to enjoy the breakfast with a view!

MASTER BEDROOM
Fluted design on the wall creates a cool effect to the room. The shutter of the wardrobe is designed with the help of Fluted design with a simple sliding door and navy blue fabric is used to the headboard of bed. T.V unit is given under Wardrobe .It was ensured that there is enough storage capacity built along with adequate space carved out for a well-designed study table while safeguarding that there is enough open space in a Master bedroom.
KIDS BEDROOM
We designed a kids bedroom with grey and white lacquer color with a toddler bed and study table with a playful carpet which adds a cute charm to overall decor. There is a full height wardrobe designed for kids.
BATHROOMS
The bathrooms have a remarkably simple and sleek interior with only minimal furniture yet very elegant. The fittings, fixtures and arrangements that beautify the bathrooms.

BALCONY
The balcony — a definite highlight of the home — also shoulders this responsibility with their lush, calming greenery. But with careful planning, it all came together as the blend of other furniture, upholstery, furnishings blended well with selected shades!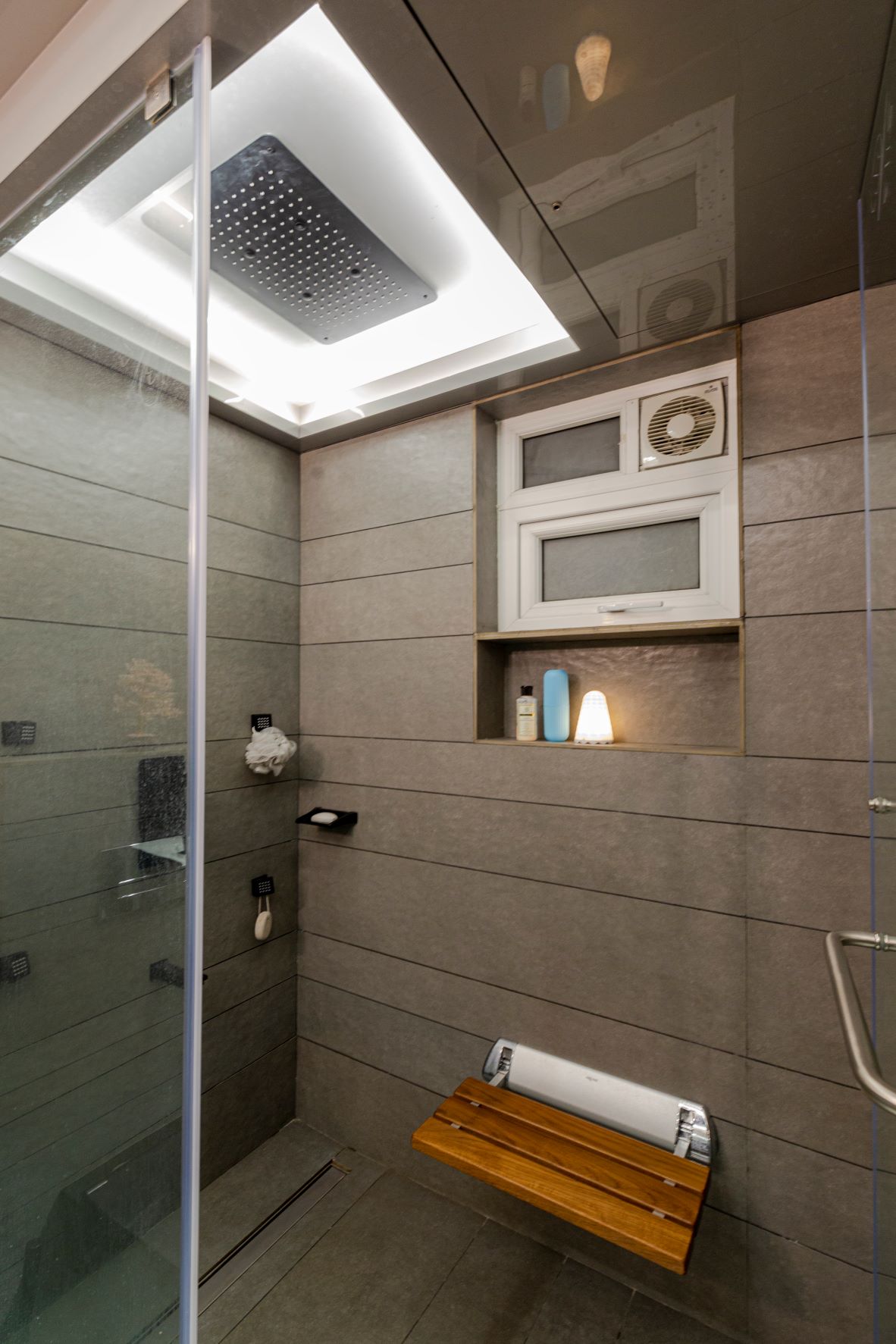 FACT FILE
Project Name : Kunden House
Design Firm : Shahapur and Associates
Principal Designer: Vishal Shahapur
Project Type : Residence Interior Design
Project Size: 1600 Sq. Ft.
Project Location : Pune, Maharashtra
Photography Credits : Vivekajeet Photography