'LUXE LIVING' – Private Residence | AKA Architects | Mulund, Mumbai
'LUXE LIVING' as we like to refer to it, is our high-end luxury residential project located in Mumbai. The design intent was to smartly remodel the apartment in order to create spacious and open planning while retaining a contemporary look with subtle accents. 'Luxury', as we like to define it, is a state of elevated comfort exuding a heightened sense of happiness.
As the Principal Designers, AKA Architects made sure that the familiar feeling of warmth that is associated with a house is not lost in material exploration. The luxurious décor of the house is designed to stun but in a subtle way. While trying to remain minimalist, we have smartly incorporated bright hues that subtly break the monotony and yet maintain balance. To describe in brief, we have delivered a contemporary apartment wrapped into luxury using the latest available finishes handpicked to deliver a smart and stunning apartment suite.
ENTRANCE
The main door is the first thing that gives the glims of an entire home. To give the earthy feeling, designers have cladded stone with wall art on the entrance wall. The customized main door jali and main door are inspired by accents of warm earthy tones and love for wood and veneer throughout the house. It's a perfect blend of modern design with a hint of striking bold colours to accentuate the rose gold metal with geometric cut-outs.
LIVING ROOM
The living room is often considered as the most important space in a home. Patterns can break boundaries and provide a great way to add interest, colour, and depth to a room. Here an abstract design of curtain creates a dramatic and bold backdrop in this living room. The luxurious elements on the wall serves as the focal facet with the veins of the marble creating an intricate pattern spread across the mandir space wall, boasting of an ascendant aura. With a basic geometry, marble wraps around a delicate ledge, encompassing displaying classic décor elements. The opposite wall is designed with a fluted effect which compliments all furniture configurations like a modern antique center table, blue velvet upholstered sofa and simple yet elegant TV unit.
POOJA AREA
Reflecting emotions, abiding by customs and traditions shows significance of Temple in Indian families. Temples form an integral part of almost all Indian households but unable to arrest our eyes when it comes to home Decor. The Mandir which is designed keeping both sentiments and decor in mind which made it look classy.

DINING AREA
In dining areaset up, white marble dining table paired with hints of brass and gold accents with blue grey chairs that make this space look elegant and classy. Backdrop of simple rectilinear geometry with Mint colour tones executed in a contemporary way to enhance the drama of the space.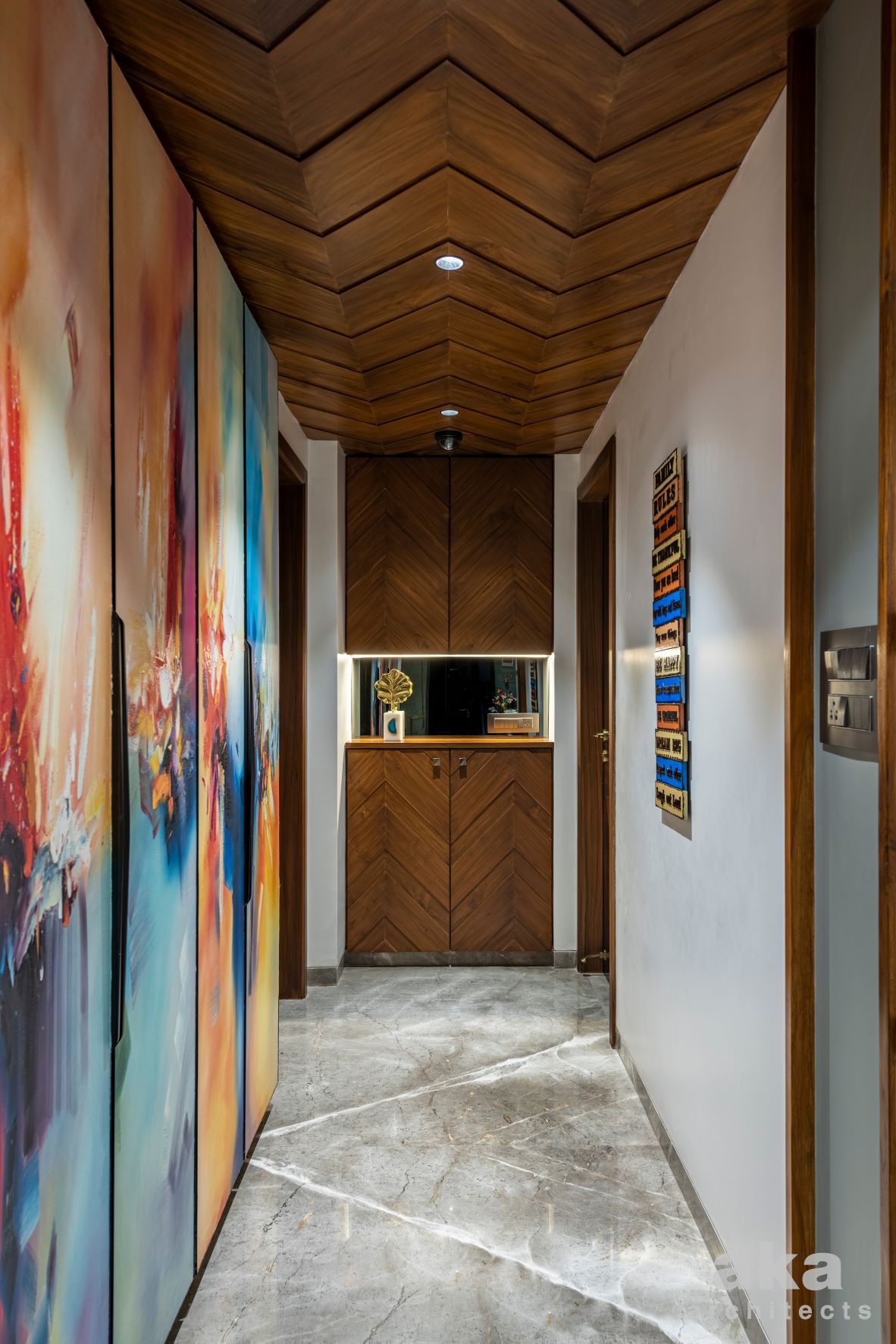 CORRIDOR
The chic corridor is made more dramatic by the play of colours, which brings in vibrancy and vivaciousness to the passageway. A patterned wooden ceiling lends a cosy vibe to the space. There are two distinctive passages on either side of the living room, where one leads to the hand washing area and the other leads to the Master's and Children's bedroom, respectively. The designers have been décor with abstract theme adorning it, whereas the latter comprises a marble ledge resting on wooden supports holding an elegant arrangement complimenting the wall art. The hand wash area has a décor with an eye-catching décor with the notion of adding aesthetic value to a utilitarian purpose space.
KITCHEN AREA
The kitchen is designed keeping in mind the process of combining layout, surfaces, appliances, and design details to form a cooking space that's easy to use and fun to cook and socialise in. The design gives a spacious feel, makes it a fantastic place to settle into and spend quality time with family and friends. The kitchen has marble-clad walls along with brick-patterned tiles and the amalgamation of form and function can also be seen in the custom-designed cabinetry on the perimeter. While black platform and beige cabinets compliment the décor of the kitchen.
MASTER BEDROOM
A striking geometric upholstered headboard and wardrobe design makes a bold statement in the master bedroom. The small bits of green in here make it more calming and really relaxing. While with a contrasting working desk and a wooden bay window sitting compliments all over the furnishings. The warm-sand tone shutters with mirror of the wardrobe and wooden cabinets endeavour on a cozy shell over the bed. The master bathroom theme has been done to exemplify a subtle character.
MASTER BATHROOM
Black is the new black when it comes to the master bathroom. Not traditionally a colour used in bathrooms, here it is used in a big way as an accent, feels stylish, bold, and empowering. With custom made highlighter tiles, the shower area's flooring boasts embossed black tiles running on the wall breaking the cliché of using highlighters only on walls.
CHILDRENS BEDROOM
While all-grey spaces can be just as infinite, a pop of dazzling orange adds liveliness to this childrens bedroom. The children's bedroom can be categorized under modern minimalism, both in terms of colour & material palette. Wall decor dominates this space with abstract design on the wardrobe, white furniture with the study area. With custom made highlighter orange headboard complements the bedroom décor.
CHILDRENS BATHROOM
A bathroom though a purely functional space, is an opportunity to explore the play of pattern, shape, and colour. Teal blue countertop, White cabinetry and grey tiles on walls embrace rustic charm of thischildren's bathroom. While blue shades complement the cool and neutral colours of this modern design. Bright colour niches at once generates a fresh atmosphere. A little bit modern, a little bit rustic, colours filled to make the space feel more playful.
AKA Architects has been creating innovational interior and passionate about supporting life experiences through the built environment by creating functional, sustainable and human centred spaces that remain beautiful in their innovation. Firm try to elaborate design which purely complements their client's personality and way of living. Alluring earthen colour palette and richness of materials, textures enlighten spaces giving comfort to the inherent. The key idea of design is recalling the sensory experience. Each input in design talks about the continuity of the other space, element, or occupancy.
FACT FILE
Project Name: 'LUXE LIVING' – Private Residence
Design Firm : AKA Architects
Principal Designer : Ar. Anup Katkar & Ar. Dhanashri Katkar
Design Team : ID. Tejasvi Karmase
Project Area : 2000 Sq. Ft.
Project Location : Mulund, Mumbai
Project Type : Residential Interior
Photography Credits : Prashant Bhat