Granite Showroom | PB Architects | Bardoli
This was an opportunity to use the indigenous materials and the focus was to use the evergreen granite right from the facade to the one that entered the showroom, the colours and shapes convey. The new cutting technologies on a varied range of granite and those giving an ample finish to the surface provide us with infinite design possibilities. "The client had a clear thought of displaying the varied use of Granite to give visitors the vision of its multiple uses". – words by The Principal Designer
The showroom is spread on a span of 6000 sq. ft. at Bardoli near Surat -Gujarat. A quiet shelter betwixt the bustle of the city. Many focal junctions have been created to experience the feel of various stones and so we focused a lot on application of granite in various ways which will allow the feel of being in granite-clad volume. Moreover, application of granite will easily allow customers to relate it to their building rather than showing a slab on display.
The metal structure with wood frames withholding the granite stands out. The playful flooring adds in to the simplified metal structure and the exposed ceiling. Displaying the Granite was much easier due to its natural property of being used in multiple surface finish or different levels. To showcase the boldness of granite through its application, we designed the various element that are clad with different character of granites.
As granite has materiality and strong physicality with various textures and colours, the combination of it was the main aspect of the showroom. When putting up all those different granites together, we were trying to the feeling of oneness and combination should go right. At the same time ceiling and floor should go silent to make those granite applications and slab display more prominent aspects. Hence, we decide to go raw with ceiling and single colour with floor. Material makes more meaning whenever it gets in contact with natural light. To this we put up major granite-clad forms in the front of the layout which has maximum penetration of natural light from the outside world. With this aspect, those forms have more meaning to its existence.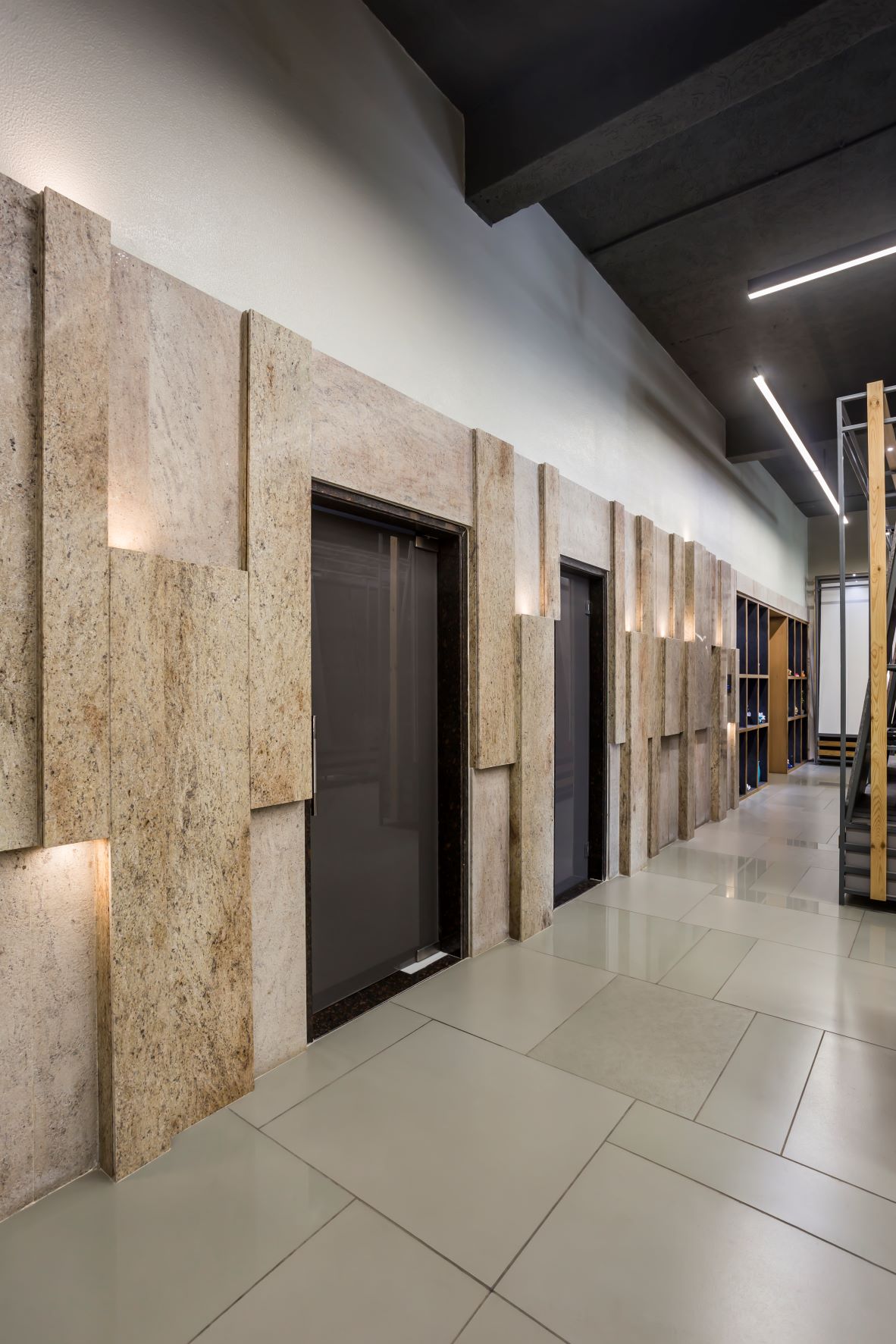 The backdrop of seating for the bed profile stands out indifferent. The laser cut leaves pattern makes the high-strength material playful and, on the other hand, interaction of granite and wood on the edges of leaves jewel together. The idea behind this showroom was to design with a timeless concept and executed as a reference point for the natural stone implementation.
FACT FILE
Project Name : Granite Showroom
Design Firm : PB Architects
Principal Architects/Designers : Bhavin Patel and Sneha Dhandharia Patel
Design Team : Bhavin Patel, Sneha dhandharia Patel, Prachi Desai, Pankaj Bhukal,Khyati
Project Location : Bardoli, Surat, Gujarat
Project Plot Area : 6000 Sq. Ft.
Project Type : Commercial
Project Theme : Contemporary
Photography Credits : Credpix (Kamal Panchal)