7 Heaven | Amaze Spaces | Noida
CONCEPT: THE MAXIMALIST BREAKOUT
7 Heaven is a bar and restaurant project with approximately 170m2, inserted on the ground floor of a market complex building, located in Noida. The functional program includes a bar area, with seating and service counters; a customer area, with seating and a dance area; customer sanitary facilities; and technical areas with restricted access, such as the kitchen, pantry, and storage.
DESIGN OVERVIEW
The café has been designed keeping in mind the idea of maximalist treatment of spaces. The side entry, adjacent to the main façade, is characterized by the strong entry of natural light and clear visibility to the public thoroughfare since the previously opaque shutters have been replaced by big fenestrations.
THE FACADE
The façade has been carved out of the classic element of the rose window presented with a twist. The initial idea of the proposal was to insert the technical program in the secondary areas of the space, without natural light and close to the existing patios, in order to enable the installation of the technical equipment for air conditioning and ventilation.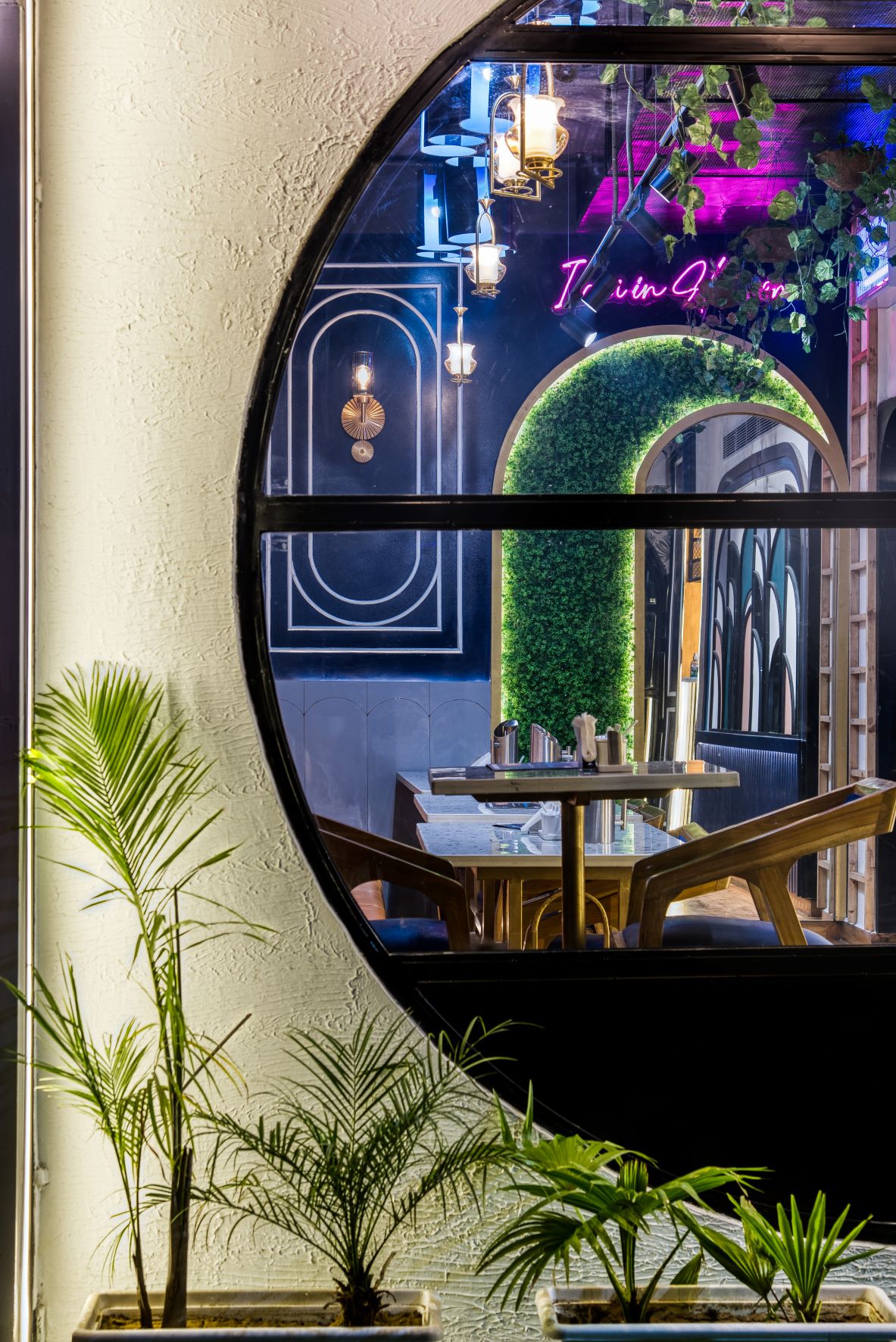 As regards the positioning of the bar, was considered a solution facing the entrance, which faces directly onto the restaurant's main façade, serving both as a waiting and customer service area.
MASSING & ZONING
Through this arrangement, the "core" of the space, which is large and with a generous ceiling height, remained free for the use of customers. Given the geometry of the lot itself, two rooms with distinct environments were created, aiming for a greater diversity of use.
DESIGN MAPPING
A fixed L-shaped sofa was designed along the bordering walls, which combines with individual tables that can be freely grouped; next to the exterior openings, a two-person table have been placed for more intimate use. The washbasin was placed in the annexed volume.
THE ARCH MASHUP
As far as the ambiance sought for the project, the intention was to create a space inspired by the artistic period of the 1920s specifically in an Art Deco style juxtaposing with the modern and contemporary design elements if the 2020's, thereby celebrating 100 years of fabulous designing.
The culminating effect of the half arches merging into one another proves to be the breakthrough wall. It's about celebrating a design philosophy: minimalism, which has been an integral philosophy of our art society.
DESIGN ELEMENTS
The walls are adorned with French panelling mixed with a neo classical flavour, the colour palette is midnight blue and rust. The floor is designed to bifurcate the walking pathway and furniture area whereas the ceiling has been given a twist with hanging plants in jute nests.
FACT FILE
Project Name : 7 heaven
Design Firm : Amaze Spaces
Design Team : Ar. Harsh Gupta, Ar. Vedant Mathur
Project Location : Noida West
Project Area : 600 Sq. ft.
Initiation Date : 1ST December, 2021
Completion Date : 1ST February, 2022
Photography Credits : Asmita Khodankar